1.    Ensure You Are Running The Most Current Version of Microsoft Internet Explorer –      
–       Version 7.0 Is Available for Download  Here 
–       Please Note: Mozilla Firefox is not officially supported by Microsoft. However, a plug in is available which enables its usage:  Power Objects Blog
 2.    Add The CRM Webpage To The List Of Local Sites–      
 Open Internet Explorer –       Select Tools > Internet Options  from the Pull-down menu–      
Click the Security Tab on the displayed form
–       Click The Local Intranet Zone Icon, then Click the Sites Button
–       In the Local Intranet Form, Click Advanced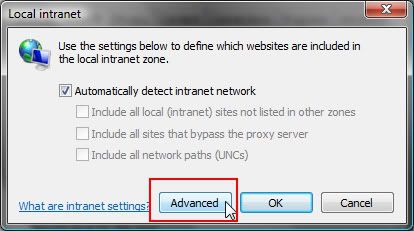 –       Now We Must Add the URL to Our List of Intranet Sites. Type the URL of your CRM site [ask your CRM administrator if unsure] into the Text Box with the Label 'Add This Website to the Zone.' Be sure to click Add after typing the site name, then click Close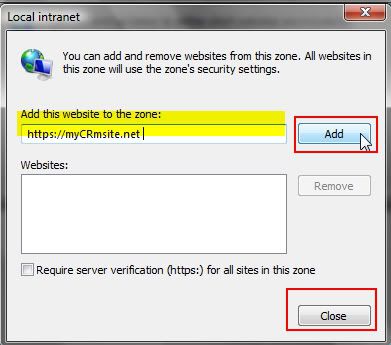 – Also, uncheck the "protected mode" check box in the security tab.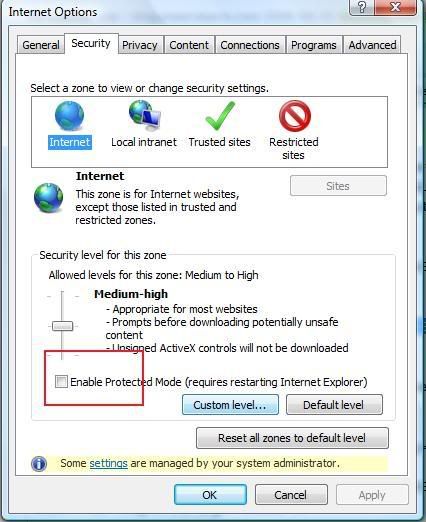 3.    Disable Certain Advanced Features
–       After Adding the Site to the Local Intranet Zone and clicking close, we should still be looking at the Internet Options Form. Click the Advanced Tab
–       A list of Advanced Settings Will Be Displayed. Scroll down Until we Find the Security Heading
–       Configure the Highlighted Checkboxes exactly as they appear below. Ensure the TWO HIGHLIGHTED FIELDS ARE UNCHECKED. Click OK when finished. [Do Not Save Encrypted Pages To Disk and Empty Temporary Internet Files folder when browser is closed]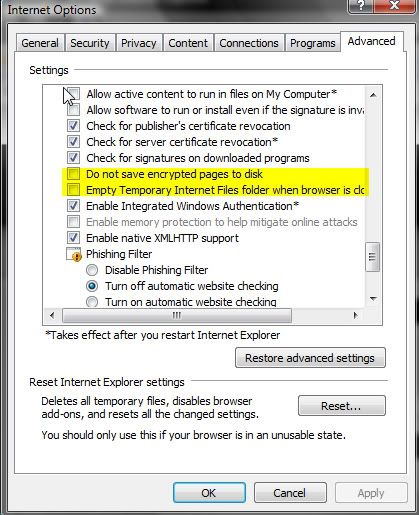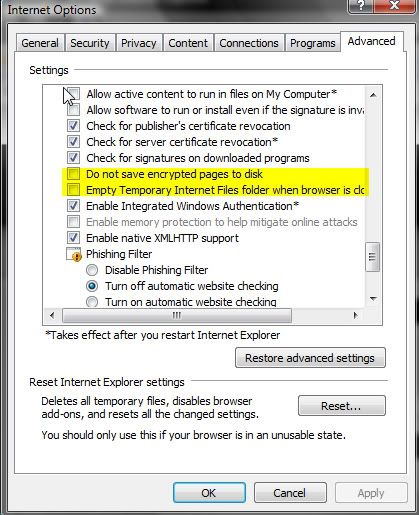 4.    Add the CRM Site to the List of Sites with Allowed Pop-Ups
–       Within the Internet Options Form, Click the Privacy Tab

–       Under the Pop-up Blocker heading, click the Settings Button
–       Type the URL of your CRM site [if unsure ask your CRM Administrator] into the 'Address of Website to Allow' Text Box, then Click Add. The address will be added to the list of allowed sites after clicking add. Click Close after verifying the address has been added to the list
5.    Run The Outlook CRM Client Diagnostic Tool –       Please Note: This Step is only available to users who have installed the Microsoft Office Outlook Client for Microsoft Dynamics CRM 4.0 available Here –       After Installing the Outlook Client for CRM, we would like to run a Diagnostic Utility that will check 300 different settings to ensure they are optimized for usage of the Outlook Client. –       To Access the Outlook Diagnostic Tool, navigate to Start Menu > Programs > Microsoft Dynamics CRM 4.0 > Diagnostics   
–       When The Diagnostic Utility Starts, click the Run Diagnostics button
–       The Diagnostic Process will now start. This process should take anywhere from 2 to 10 minutes to run.
–       After the diagnostic completes, the results will be displayed within the same window. Anything the diagnostic discovers will be flagged with either a Red X or a Yellow Exclamation Point (!). Clicking the Fix or Fix All button will attempt to fix the detected issue. Click Save when finished.